Understanding the Different Food Groups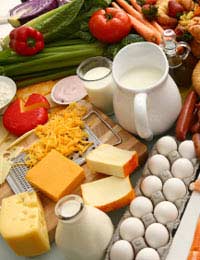 Understanding the five different food groups will help you to enjoy a healthy, balanced diet.
Each of the different food groups fulfils a function for your body's wellbeing, so there is no reason to cut one or more of them out. Unless you have personal or religious reasons for not wanting to eat a certain food group, plan to enjoy the suggested portion sizes for each food group and you will know that you are eating a balanced diet.
Fruit And Vegetables
All fresh, frozen and tinned fruits and vegetables are good to eat, although do be careful that tinned products, in particular, are not in sugary syrup. Frozen vegetables can also often come with butter and sauces, as can 'ready to microwave' vegetables that are in the ready meal fridges in supermarkets.
The best way to eat fruit and vegetables is without extra sauces, although any way that you can include more fruit and vegetables in your diet is good. Lightly steamed vegetables are delicious, and a fresh fruit salad takes some beating.
It is recommended that you eat at least five portions of fruit and vegetables a day, which can include up to one glass of juice, smoothies, an apple/orange/banana, a handful of grapes, five dried apricots or a large slice of melon.
Milk And Dairy
Milk and dairy provide vitamins B12, A and D and are great for building healthy teeth and bones. It is especially important that children are not given the low fat versions, unless advised by a doctor.
It is advised that you eat around three portions a day, which can include a 200 ml glass of milk, a match box sized piece of cheese or three cheese triangles.
Carbohydrates
Carbohydrates help to keep you full of energy and not feeling hungry. Carbohydrates are the 'starch' element of your meal, such as potatoes, pasta and rice.
It is advisable to try to choose the wholegrain version of your carbohydrates as often as possible as they keep you feeling fuller for longer and are unprocessed.
It is advised that you eat some carbohydrates with every meal and snack, although do be careful not to have too big a portion as it can make you feel sluggish. Aim for a tea-cup sized portion of cooked pasta, rice or potatoes.
Fats And Sugars
Fats and sugars are to be enjoyed less often – certainly not every day – as they contain a lot of calories and very little nutritional value.
Processed white sugar is not good for your metabolism, so you may prefer to get your sweetness from natural sugars such as honey. Some fats are good for you, so choose wisely – an avocado contains fats that help support your skin, whereas chocolate may make you feel good, but you won't look so good!
Meat And Proteins
Meat is a great source of protein, but you can also make sure that your diet is high in protein if you do not choose to eat meat.
You need to include protein with each meal and snack as it helps you to feel full without too many calories. Protein is very important for the health and development of your body and, if you are watching your weight, great for feeling full without looking bloated.
Sources of non-meat protein include lentils, legumes, tofu and soya products.
You might also like...
i really like the dishes,they make my food spicy.i like different foods like ham and cheesey pasta.
shaun
- 26-Sep-11 @ 1:42 PM