Good Food Preparation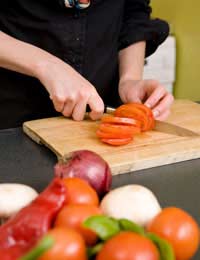 Good food preparation is terribly important, especially if there is anyone in your household that is elderly, young, pregnant or with a reduced immune system.
Bad food preparation may not do you any harm if you are always fighting fit, but it is a sloppy habit to get into and will not be good for you in the long term. It is also unappealing if you have guests.
Some people live by the 'eat a peck of dirt in your life' philosophy and don't get flustered about washing their hands after handling raw meat or using different shelves in their fridge for raw and cooked ingredients. Indeed, there is no reason to get all fanatical about it and coving your hands with anti-bacterial wipes wherever you go.
But, good food preparation makes sense and helps keep order in your kitchen. If you had one of those crazy infrared cameras that show up all your germs (they always seem to have them in adverts for multipurpose cleaners – where do they get them from?) then you may think twice about cutting raw pork and then eating an apple.
Raw Meat
Raw meat can harbour all sorts of germs. It is a good idea to get used to using a separate chopping board for raw meat, or at least when you are preparing different ingredients. Try to learn to be aware of what you are touching while you are preparing your food and raw meat in particular. You will soon feel natural about being aware of what you touch and will get used to keeping one hand free of touching the meat that you can use with the knife, to turn on the tap or touch the handle of the pan you are using.
Hand Washing
Regular hand washing is an important part of good food preparation and kitchen hygiene. Always start food preparation by thoroughly washing your hands – keep a pump dispenser of antibacterial liquid soap next to your sink and a separate towel for hand drying (don't use the tea towel you use for drying dishes.)
Take care to wash your hands in between preparing certain foods, both to prevent contamination and for your own wellbeing. For example, it is important to wash your hands after handling chillies as they can really burn if you then touch your eyes.
You will often see pebble shaped metal stones in gadget shops that promise to remove pungent food smells like onion and garlic from your hands, that you rub in your hands when you wash them, but it is just as effective (and free!) to run your soaped hands over a stainless steel tap.
Clean Equipment
Make sure you keep all your cooking equipment clean and dry. Take care to wash each piece of equipment – juicers, blenders, knives, pots and pans – every time you use it and either dry it by hand or allow them to air dry on the draining board. If you have a dishwasher, make sure you allow the drying cycle to finish completely.
If you store kitchen equipment for a whole until you next use it, it is a good idea to wash it again before use, especially if it is something like a food processor where food particles can remain in the blades or cutting accessories.
You might also like...