Temperature and Timings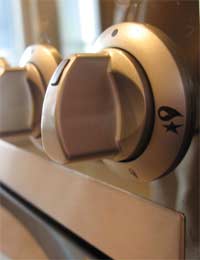 Some temperatures and timings in the kitchen are terribly important to get right.
Others are a little more forgiving.
If you are relatively new to cooking or not particularly confident in the kitchen, you may prefer to stick to the type of recipes that are not troubled by a little longer in the oven or a little hotter temperature.
Meat
Most meat dishes tend to be pretty flexible, especially if the meat is cooking in some sort of liquid. Casseroles with red wine, stock or beer actually benefits from long slow cooking, so don't feel you have to stick to the recipe guidelines. It would be more important that you allow yourself enough time when cooking a casserole or Bolognese type sauce – undercooked versions tend to be less tender and less flavoursome.
Roasting meat is also quite flexible, although it is better to allow resting time out of the oven if you are running behind instead of leaving the meat in the oven to go tough. As a rule, temperatures of around 190 degrees are ideal for roasting meat, with a slightly lower temperature of 150 to 160 for oven braised dishes.
The main exception here would be pan fried or grilled meat such as fillet steaks, pork chops or veal escalopes. You really don't want to overcook these as they will be dry – a very expensive piece of show leather! For a medium rare steak, pan fry in a very hot pan for two minutes a side, with a couple of minutes on a warm plate (perhaps in a very low oven, or covered in a tent of foil) to rest the meat.
Baking
Most baking requires pretty exact timings and temperatures so unless you are confident in the kitchen or have plenty of time to experiment, you may prefer to stick to refrigerator cakes!
As there is more 'science' with baking, the measurements also need to be quite precise. There is a great deal of satisfaction in baking your own cakes and as long as you are not watching your weight, there is nothing so inviting as a home-baked sponge cake.
Generally, a classic Victoria sponge will take about 25 minutes in a medium oven - around 160 degrees Fahrenheit.
Some baking is easier, though, such as cookies and brownies. You still need to watch them carefully, but as they are tastiest when they are a little gooey, you can slightly undercook them. Large cookies take around eight minutes to cook in a medium to high oven, allowing them to cook on a wire rack.
Vegetables
Roasted vegetables are very accommodating. Not only are they delicious in all sorts of recipes, but they are also very nutritious as you do not lose any vitamins through boiling. Try making a tray of roasted vegetables including tomatoes, peppers, onions and courgettes and cooking it on one layer in a high oven for at least 40 minutes. Stir it through pasta, use it to stuff cannelloni, as a filling for jacket potatoes or whiz it up in a blender for a healthy dip to have with pita bread.
Steaming vegetables needs a little more careful timing. Try steaming asparagus (snap off the woody ends) for exactly six minutes in an inch of salted water and then serving them with a poached egg, parmesan shavings, balsamic dressing and plenty of fresh bread to mop up the juices.
You might also like...