Slow Cooker Puddings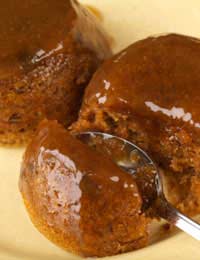 There is no reason why you should only cook soups and stews in your slow cooker. It makes delicious pudding too, including the perfect Christmas pudding, making it a great time and space saver on Christmas Day.
The long, slow cooking is perfectly suited to suet puddings, but even cheesecake and light, creamy crème brûlée can be made successfully in the slow cooker.
Here are two recipes for puddings that you can make in the slow cooker – one is a delicious family pudding that's perfect for cold winter nights and the second is a fancier recipe that's ideal for dinner parties and special occasions.
Sticky Toffee Pudding
Everyone loves Sticky Toffee Pudding! It's a great end to a roast dinner (even if you need a little rest on the sofa afterwards!!) but also a lovely family pudding after a lighter meal. Just make sure that you put your pudding on in plenty of time. This recipe serves four with good appetites and works best in a slow cooker with a working capacity of at least three litres.
Pudding
50g butter
150g self-raising flour
100g brown sugar (muscovado is best)
2 eggs
50g chopped dates
2 tablespoons single cream
Sauce
125g brown sugar
25g butter,
½ pint hot water/half water, half milk
Extra thick cream to serve
Butter your pudding basin (use a bit more than the 50g). Rub the butter into the flour, stir in the flour and chopped dates, being careful not to over-mix. The stir in the eggs and cream to make a thickish batter. Pour this into your pudding basin and then carefully pour the sauce ingredients on the top. Cover with tight foil, tying with string to help take it out and keep it water tight. Put in your slow cooker and pour in hot water half-way up the basin. Cook on high for three hours and lift out very carefully and serve with a big blog of thick cream, or even clotted cream for extra decadence.
Rich Chocolate Pots
These delicious pots of rich chocolate pudding are the perfect end to a dinner party or special meal. And they're really easy! Just pop the pots in before you start getting ready and they'll be ready at the right time. This recipe uses dark chocolate for a grown-up flavour, but they're just as yummy with milk chocolate.
½ pint double cream
½ pint milk
200g good quality dark chocolate (around 70 % cocoa is best)
2 eggs
2 egg yolks
50g brown sugar
1 measure liqueur (Cointreau or Grand Marnier ideally)
Butter a small pudding basin, or use little espresso cups for dinner party elegance. Gently melt the chocolate in the milk and cream, either carefully in the microwave or over a very low heat, stirring all the time. Thoroughly mix the other ingredients together and gently mix them into the chocolate. Pour the mixture into your cups and tightly cover with foil. Put them into your slow cooker and fill with hot water half-way up the cups. Cook on low for about three hours and carefully remove. Serve chilled with a little whipped cream and a twist of orange peel.
You might also like...
Holsgirl - Your Question:
What size pudding basin should be used for Sticky Toffee Pudding and Chocolate Pots?Thanks
---
Our Response:
A 1.2 litre (or 2 pint) bowl is usually about the right size.
CooksEssentials
- 7-Dec-15 @ 11:59 AM
What size pudding basin should be used for Sticky Toffee Pudding and Chocolate Pots? Thanks
Holsgirl
- 5-Dec-15 @ 8:54 AM