Essential Baking and Cooking Equipment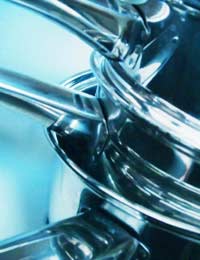 You don't need to buy a lot of fancy equipment for cooking and baking. Although there are scores of gadgets and gizmos available in department stores up and down the country, the truth is that most of these end up staying in their boxes.
The best way to enhance your cooking and baking is to invest in some good quality, basic equipment that will last you a lifetime. Unless you are catering for large amounts of people on a regular basis, most people will need to be able to cook for their family and the odd dinner party. Even if you do end up having to providing catering for lots of guests, you can use multiple pans or even hire kitchen equipment.
There is some basic equipment that will pay for itself ten times over. Don't scrimp on the buying the basics – think of what you're saving by not buying all those pointless gadgets!
Knives
A good set of knives is a chef's friend. Go for a German or Japanese brand and make sure the blade and handle are in two pieces that are screwed together, rather than a molded knife. Go for a heavy wooden block with a range of knives – they usually come in fives, with a sharpening tool included. Keep them all sharp, dry and clean and they should last you a lifetime.
Chopping Boards
It is a good idea to get into the habit of using different chopping boards for difference kitchen tasks. For example, keep one chopping board for raw meat, one for fish, one for sweet things etc. You can buy colour coded boards now which makes it easier for your family to get used to the rules.
If you have a heavy wooden chopping board, keep it for bread and cheese. Don't go using it for raw meat and cooked meat as the wood is porous and can let germs in.
Baking Trays
Buy a selection of good quality baking trays and you will be able to use them for everything. You don't need many – a deep roasting tray, a couple of flat, shallow baking trays and a bun tin should be the basics covered.
Heavy duty baking trays are easy to use, especially if you buy non-stick. You don't need every possible shape and size.
Frying Pans
One large and one small frying pan is all you need for all your cooking requirements. Good quality, non-stick pans are quite heavy, but not so heavy that you cannot easily pick it up with one hand when it is filled. This is particularly important if you have any sort of mobility issues as the pan gets really hot.
Stock Pot
A great big stock pot is a great additional to your cooking equipment as you can use it for making stocks and soups as well as boiling potatoes and cooking pasta.
Spoons And Utensils
A small selection of spoons and utensils will please the most ardent baker – go for a couple of measuring spoons to help make less mess when you bake, saving you the need to get scales.
Get a couple of wooden spoons – one for sweet things and one for savoury. A whisk, spatula and fish slice is all you need to complete your kitchen equipment team.
COOKS ESSENTIALS IS FOR SALE.
This website is for sale [more info].
You might also like...
Hi, I wonder if you can give me some advice.I have been a fan of Cooks Essential cooking pans for many years and my two favourite items - large stock pot and large saute pan - are in constant use in my kitchen. I have never used metal utensils in them, but for some time now the bottom of the stock pot has shown three or four spots where the coating has come off.This doesn't bother me aesthetically and I would hate to lose the pan, but I am worried about the fact that we must be ingesting the coating when it comes off during cooking. Can you tell me if this coating is inert or if it could cause us health problems? Many thanks, Jess Allaway. P.S. I have never found such well designed pans anywhere else and do hope I can carry on using mine.
Jess
- 28-Jan-17 @ 8:21 PM