Following a Recipe Book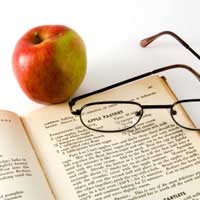 Following a recipe book is a skill you can learn. That may sound like a crazy thing to say – you just need to do what the chef tells you in the recipe, surely? But it's not always that easy.
Chefs Assume You Already Know
Often, chefs will assume that you know certain things, or they write about some hard to find ingredient without giving you a more accessible alternative. Don't forget, too, that chefs are just human and they make mistakes – all too often recipe books will have some glaring mistake, confusing teaspoons with tablespoons, which can totally spoil the dish.
Get used to the type of flavours that can be used instead of hard to find ingredients, such as a little lime juice instead of lime leaves in a Thai curry, or an onion and a clove of garlic when you can't find asafoetida.
Read The Whole Recipe First
Rather like those happy days of taking your A Level exams, you must remember to read the whole recipe before you start cooking anything. Don't just read the title and then start cooking – not only will you inevitably find that there is some hugely important ingredient that you are missing, but there will also be some key detail such as turning the oven on at the beginning that you will miss.
By reading the whole recipe, you can start to cook knowing that there won't be any surprises that could spoil all your efforts.
Do You Have A Helping Hand?
Bear in mind, too, that chefs have whole teams of people on hand to do all their menial tasks, whereas you, probably, will have to do all your own donkey work, unless you can enlist someone that will do all the grubby jobs for none of the glory (do these people exist?). This means that their '10 minutes preparation, 10 minutes cooking' ends up being 50 minutes of peeling and chopping before you've even turned the oven on.
With regards to preparation, chefs often have all their ingredients in little bowls, just ready to be put into the dish as the recipe states, however, their menial task person will have done this and probably all of the washing up too, so don't feel you have to copy this part!
You Are In Control
When you follow a recipe book, the most important thing to remember is to make sure that you remain in control. Adding a bit less salt or turning the heat up or down is up to you – just because the recipe says 40 minutes at 200 degrees, if you see the top burning, turn it down or take it out!
Once you have followed a recipe once, you can annotate your cook book so you remember any little changes you made. This is not advisable if you have borrowed the book from the library, but otherwise, get stuck in! You may think that the finished dish needed a little more or less of a certain ingredient, or that a particular side dish worked well. You don't have to stick to the recipe if you would prefer a few subtle changes.
You might also like...