Building Up a Good Spice Rack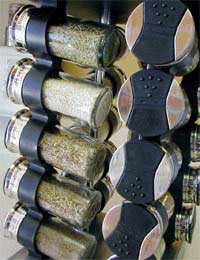 What the enthusiastic home cook really, really wants is to build up a good spice rack.
Learning how to cook with spices is the way forward in terms of getting maximum flavour and minimum calories into your food.
Spices are fat and calories free, yet they add a real punch to your cooking. Rather than relying on fats and sugars to get flavour into your meats and vegetables, spices allow you to vary the nationality of your cooking in the shake of a jar!
Building up a well-stocked spice rack means that you have access to flavours from around the world at your fingertips. By learning how to mix and match your various spices, you can learn how to get the flavours of Thailand, India, Mexico and Spain (and many more) using the same supermarket ingredients of chicken, rice and peppers.
The Cost Of A Good Spice Rick
A good spice rack does not need to cost a fortune to build. In fact, it is better to buy small amounts of fresh spices instead of large tubs that go off. Although spices may seem very robust, they can quickly deteriorate in quality when left for a period of time (only a year or so), especially if not tightly sealed or in daylight.
There are plenty of people who were given a spice rack as a wedding present that are still using the same spices in their kitchen many years on! These will certainly not be adding any authentic flavour to their food – perhaps a hint of damp, mouldy dust, instead!
The best place to buy your spices from is an oriental supermarket. Many towns have a small oriental supermarket and the vast majority of larger cities have at least one or two and maybe even a China Town or oriental cash and carry. Here you can buy really fresh spices for very low prices, which makes it easier to replace them every six months or so, keeping your cooking really fresh.
Thai Spices
To get a good, authentic Thai flavour into your home cooking, you need to stock up on spices such as red chilli, lemon grass, Thai holy basil, ginger, galangal, coriander, and Kaffir lime. You will also need store cupboard ingredients like fish sauce, coconut milk and sugar. Make a paste with the spices (use a few chopped shallots to bind) and fry chicken pieces and pepper strips in the paste. Add in coconut milk, a shake of fish sauce and a large pinch of sugar. Leave to simmer. Serve with fragrant jasmine rice and plenty of chopped coriander.
Indian Spices
Indian home cooking is nothing like the sort of dishes we are used to buying from Indian takeaways. Proper home cooking is far more aromatic with far less fat and oil. Marinate your chicken pieces in coriander, chilli, turmeric and cumin. Use natural yoghurt or tomato puree as a base, with a little salt and black pepper. Fry the pieces in a little vegetable oil or butter and add water, a tin of chopped tomatoes or stock to make a gravy.
Mexican Spices
You can make delicious burritos by frying your chicken pieces and sliced peppers with cinnamon, chilli, cumin and black pepper. Fill flour tortillas and place in a baking dish (one that can go straight to the table). Cover with a spicy tomato sauce, or salsa and plenty of grated cheese and bake for 20 minutes, or grill for five to brown the cheese. Serve with rice and soured cream.
You might also like...