Effective Meal Planning when You Live Alone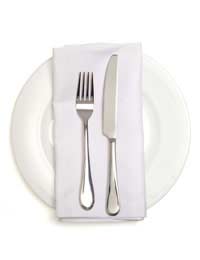 Just because you live alone, it does not mean that you have to resign yourself to a nightly ready meal.
Effective meal planning when you live alone is a great way to make sure you have a balanced diet (it can be too easy to make toast and open a bottle of wine) and don't spend a fortune on salty, fatty ready meals.
Once you have got into the habit of effective meal planning you will find that you are saving money and feeling healthier. A lot of bad habits simply creep up on you, so this way you are intervening and getting organised into the bargain!
Effective meal planning just takes a little bit of getting used to. Many people who use this to their advantage chose to spend an hour or so once a week, usually on the same night (Sunday works well) and make a plan for the week.
Which One Are You?
There are two prongs to your meal planning – what time you have available and what you like to eat. It also depends on how much pleasure you get from cooking an eating – are you a 'live to eat' or a 'eat to live' person? For some people that live alone, their perfect night is pouring a glass of wine and cooking themselves a lovely dinner from scratch. For others, they want to come home after a day at work and put something in the microwave.
Which ever one you are, effective meal planning is your friend. If you are the first (live to eat) type of your person, you may plan your cooking around your work diary and make sure that you have bought some lovely ingredients that you will enjoy cooking. Whereas if you are the latter (eat to live) type, you may prefer to make sure that you have a freezer well stocked with individual portions of your own 'ready meals' that you have batch cooked.
Live To Eat
Effective meal planning for foodies that live alone is a wonderful way to treat yourself. As long as you make sure that you have a good, balanced diet, you can establish plans for all your favourite treats.
An important factor in meal planning is buying ingredients. There is no point buying a whole chicken to roast if you end up throwing half of it away. Try making a roast chicken one night and eating one breast with some potatoes and vegetables. You can freeze another ready-plated up roast dinner using the other breast (just cook it straight from frozen – works a treat!), use the legs in sandwiches to take to work and strip the rest of the meat for a risotto or a curry. You can then make a soup or stock with the carcass.
Eat To Live
If you prefer to spend as little time cooking as possible, it may suit you better to batch cook and have your own 'ready meals' to hand. Alternatively, you can shop for ingredients that allow you to make quick, tasty meals with the minimum of preparation.
You can include some 'cheat' ingredients that help make preparation just that bit easier.
Try stir fries (don't succumb to packet sauces – just add chilli, garlic, ginger and soy) and omelettes, or noodle soups and poached fish.
Planning your meals will involve making use of ingredients over a couple of nights. For example, if you buy a cauliflower, one night you can use half to make a cauliflower cheese (should be enough for lunch the next day, too) and the next night you can make the other half into a tasty soup – just add crusty bread and crumble some crispy bacon on top - you can buy it ready cooked and use the rest in your sandwiches the next day.
You might also like...