Effective Meal Planning for a Family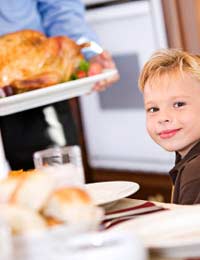 Meal planning may sound terribly practical and not a lot of fun, but in actual fact it is a great way to have quality family time and save money!
Effective meal planning for your family is one of those tasks that can take a bit of time at first, but once you get used to it, it will be second nature.
Although there are a million and one different meal ideas out there in the big wide world, the majority of us stick to about ten or fifteen family favourites, with a few new ideas and rare treats thrown in.
Family Favourites
With meal planning, you need to make a list of all your family favourites. If you get your family involved at this stage, it will also help to share the task and make sure they enjoy healthy meals, too. Don't forget that sociologists agree that a family that regularly eats together at the dinner table, talking about their days (no television allowed!) is a well-adjusted, balanced family.
Talk about the meals you all like and that can be prepared with the time, money and resources you have available. Popular choices are spaghetti Bolognese, lasagne, chicken casserole, Indian and Thai curries and sausages, mash potatoes and onion gravy.
Keep A Family Diary
Once you have list of meals that you and your family can enjoy together, you need to have an up to date family diary. This can be a wall planner, a big diary you keep in the kitchen or a roomy, week-to-view calendar.
Make sure your family appointments, regular classes and after school activities are in the family diary. You will be able to make your weekly meal plan far easier if you know who is going to be around when, if your children have friends over for supper one night or if you have to work late on a certain day.
Batch Cook And Use Your Freezer
Your freezer is your friend when it comes to effective family meal planning. Batch cooking and your freezer is a match made in heaven – no more ready meals or trips to the fish and chip shop because you don't have the energy to cook. Lots of family favourites are perfect for batch cooking, especially 'one pot' type dishes like curries and casseroles that get better with reheating and have all your meat and vegetables in one dish.
Next time you have a morning or afternoon to yourself (Sundays are great for this), set aside some time to make a couple of batches of your family's favourite dishes. This is even easier if you have a decent food processor as all that chopping of onions and garlic is loads quicker.
Many basic meals can be used to create other meals, too, so if you cook a big batch of Bolognese sauce, for example, and freeze it in suitable sized portions for your family, you can use it to quickly make spaghetti Bolognese, pasta bakes, chilli con carne and lasagne.
If you learn to use your freezer effectively you will be able to enjoy those family meals that can take too long to cook on a normal 'school night', such as casseroles that need a good couple of hours cooking time. As long as you make fresh side dishes – frozen pasta is awful unless it is in a lasagne, freshly cooked rice for a curry, or even just pick up a fresh baguette when you're really pushed for time – you will enjoy home-cooked meals without the hassle.
You might also like...