Simple Recipes to Make with Your Children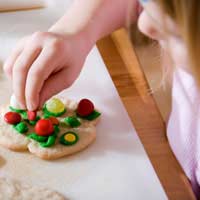 You'll notice that the title of this article is 'simple recipes you can make with your children'.
The 'with' is an important factor in the success of your cooking activities because it can be a very good way to spend quality time with your children and teach them some useful life skills. You may find that, in time, your child likes to cook by themselves and present you with something they have made, but until then it is lovely to cook together.
Here are two simple recipes that are great to cook with your children. You can use the opportunity to teach them some basic kitchen skills, such as using a knife safely, using the oven and making a balanced meal.
Shortbread
Shortbread is a great recipe to start with as it only uses three basic ingredients – butter, flour and sugar. Once you have made the shortbread, you can ice it if you want to, or you can add chocolate chips or dried fruit to the mixture before cooking.
A basic shortbread recipe is 9 oz butter (good quality salted butter is best), 9 oz plain flour (sifted) and 4 ½ oz sugar. You will see that you are using double the amount of flour and butter to sugar, so it is easy to halve or double the amount. This recipe makes 12 chunky fingers of shortbread.
Start by heating your oven to 150 c/300 f/ gas 2. With room temperature ingredients, cream together the butter and sugar – this is ideal for little people. Slowly add in the flour and bring together with your hands to make a dough. You then place the shapes you want onto the buttered, heated baking tray and bake for 40 minutes.
Shepherds Pie
Making Shepherds Pie gives you the opportunity to talk through where meat comes from, add in a variety of vegetables and make a meal that your whole family can enjoy – a great motivator!
Make sure you introduce your children to good quality minced meat – lamb is traditional for Shepherds pie.
Fry some onions in a little oil in a large pan and then add in your minced lamb. Cook this for as long as possible – at least half an hour – after adding in some stock and a tin of chopped tomatoes, if you like. You can also add in any number of chopped vegetables at this point – peas, carrots, courgettes and aubergine go well, although are not traditional. This is also a great way to get some extra vitamins into your diet. Allow it to cook over a low heat without a lid on, to allow the flavours to develop and concentrate the stock – you do not want it too dry or too wet.
You then need to make some mashed potatoes to go on top of your pie. Peel and thickly slice some floury, old potatoes and boil them in salted water for about 20 minutes. Drain them thoroughly – this bit is probably best done by an adult – and then mash them with a knob of butter and some salt and pepper.
Put your meat, vegetable and stock mixture into a casserole dish and top it with the mash potato. Cook the whole thing in a medium heated oven for 20 minutes, or just pop it under the grill to brown the top. You can also put grated cheese on the top before browning for a lovely crust.
You might also like...