Hygiene in the Kitchen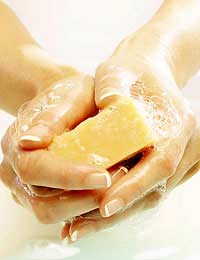 Just because you're not imminently expecting a visit from Health and Safety, doesn't mean that you don't need to maintain decent standards of hygiene in your domestic kitchen.
Good basic hygiene in a home kitchen is especially important if you live with elderly people, young babies, pregnant women or people with allergies or a reduced immune system. Eating a dish made with raw egg, contaminated produce or certain ingredients can be very dangerous for at risk groups.
Basic hygiene in the kitchen is good practice. You don't have to go crazy with the bleach every time you pick up a spoon, but it is a good idea to get into the habit of using antibacterial hand wash, changing your cloths and towels frequently and being careful how you handle and store raw and cooked meats.
Wash Your Hands!
The rise in popularity of cooking shows on television has a lot to answer for! You see celebrity chefs cutting up raw meat then handling another ingredient all the time, even though this is terrible practice.
Raw meat can contain bacteria which are easily transferred on your hands, cooking equipment such as spoons or chopping boards and on plates and pans. You need to get into the habit of washing your hands whenever you have touched raw meat, ideally with an antibacterial hand wash. Keep a pump dispenser next to the sink and get used to using the side of your thumb (that hasn't touched the meat) to pump the soap onto your hands and start the tap.
Prepare raw meat separately from cooked meat and all other food stuffs. An easy way to do this is to prepare your raw meat first and put it in a dish, and then wash your hands and all cooking equipment before you prepare anything else.
Keep Cloths And Towels Clean
It is important to change your kitchen cleaning cloths regularly.
While there are plenty of disposable washing up cloths available, it is cheaper and more environmentally friendly to buy washable cloths. You must wash them regularly (at least once a week, ideally twice) and at high temperatures (above 60ºC) to kill off any bugs and bacteria.
Remember to keep different cloths for different cleaning jobs – you can't just use one cloth for the floor, worktops and washing up, however often you wash them.
Micro fibre cloths are excellent kitchen cloths as they do not require chemicals and dry quickly. You can just chuck them in with your coloured washing and let them dry (ideally outside as the sunlight is a natural antibacterial).
It is also important to change your tea towels regularly. Use one towel for drying hands and one for drying dishes, rather than using the same one. Once you get into the habit it is second nature.
Kitchen hygiene is an important element in safe cooking and kitchen maintenance. Basic kitchen hygiene skills are often common sense, with sensible food preparation and good practice a valuable and necessary addition to your life skills.
You might also like...