Encouraging Children to Cook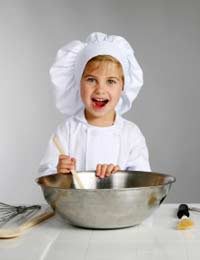 The kitchen is the friendliest, cosiest place in most homes and hanging around the kitchen while Mum is cooking is a natural thing for children to do.
Importantly, this early experience can be used to encourage a natural, instinctive relationship with food and cooking that will last a lifetime.
It helps if children show an obvious enjoyment of cooking, but certainly they will all enjoy the food, and it does not require exceptional talent to cook it.
The most important principle in encouraging children to cook is to have a good time and not to be too serious.
Do's and Don'ts for All Age Groups
Do try to do as many cooking processes as possible by hand. This will allow children to take greater part in food preparation before they reach an age to use electrical equipment.
Don't allow children near unprepared food before their hands and lower arms have been thoroughly washed and dried. This is a habit they should be introduced to right away.
Do pass on the tricks and customs learned by you from your own mother to keep family traditions going from one generation to the next.
Don't give children a task which is too challenging for their age - it would be discouraging.
Toddlers - 1-3 Year-Olds
Satisfy the curiosity of toddlers by giving them safe, simple tasks which for them are exciting - shelling peas or peeling bananas or sweet corn cobs.
Don't forget a toddler's attention span is short. Try inventing funny stories about the foods you are preparing which will increase their enjoyment; or encourage them to draw pictures at the kitchen table of bright coloured foods.
4-7 Year-Olds
By now children need interesting things to do. They are old enough to use a very safe kitchen utensil such as a wooden spoon, rolling pin, small hand whisk or pastry cutter, with supervision.
Don't forget to allow for a huge difference between the capabilities of a four-year-old and a seven-year old when you are allotting tasks.
Choose from a good variety of tasks for this age group. A few are: scrubbing vegetables, squeezing lemons and limes, cracking eggs (with practice), brushing up spills such as flour, measuring and weighing ingredients, setting the timer, greasing the baking dish and washing the rice.
Don't let children escape less enjoyable skills such as the washing up - although excluding sharp knives and heavy saucepans. They will accept that this is all a part of the process if you treat it that way.
Pre-Teens, 8-12 Year-Olds
Do remember that children of this age are capable of learning more responsible tasks. They have better co-ordination, a better attention span and know the basic elements of hygiene and safety.
Don't, however, leave a child alone with a hot stove. Make sure you closely supervise them as they add ingredients to a pan or slowly stir a saute.
Do show them how to use oven gloves safely and explain the dangers of fires, burns and spillages.
Some simple peeling, chopping and slicing can be learned, e.g. green beans, or other vegetables not requiring a sharp knife.
Don't leave a child alone with a knife and don't ask them to chop hard vegetables such as carrots which require a lot of force and a sharp knife.
Teens, 12-15 Year-Olds
Young people who have been taught well are usually very capable by now. Teach them how to organise tasks so that the component parts of a meal are ready at once.
Don't necessarily leave them alone in the kitchen. Stay nearby, reading perhaps, so that you are on hand with advice or help if required.
Do encourage children experienced in cooking to gain expertise in one area of cooking, such as bread making, or sauces or baking.
Encourage them to make up their own recipes with twists and additions to traditional dishes.
Don't forget to praise your children's efforts, especially in front of others. This is how they will gain confidence.
The Reward
The whole point of encouraging children to cook from an early age is to help instil good eating habits and to help them appreciate the enormous variety of foods on offer and the joy of producing healthy, home-cooked food.
The whole process should be fun and there are few better opportunities to spend rewarding, enjoyable family time doing something everyone enjoys at one level or another.
You might also like...