The Science Part - Simple Kitchen Physics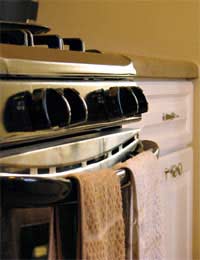 Is cooking an art or a science?
It depends who you ask and what they hope to achieve when they cook. For some people, cooking is all about creating a tasty, healthy dinner for their family. For others, they want to wow their dinner guests with fancy dishes, usually using every pot and pan in the process (invariably for someone else to wash up.)
For budding Heston Blumenthal types, cooking is about the physics of the kitchen – playing with temperature, weighing a little bit of this and grating a little bit of that – and putting it together to create previously unknown taste sensations!
Even if you do not plan to cook bacon and egg, ice cream or snail porridge in your kitchen, it is still worth knowing about the basic physics of a successful kitchen.
All kitchen equipment has greater potential to make something wonderful the more you understand how it works, but you must not allow yourself to be blinded by kitchen science – remember that you are in control.
Oven
First up, that key piece of kitchen kit - the oven. You can get some incredibly fancy ovens with all manner of impressive features – a spit roast thingy, steam cooking, the ability to maintain and constant, really low, temperature for slow roasting over long periods of time.
Don't forget that an oven is just a box that gets hot. A good cook is able to make wonderful roasts and cakes from even the most rudimentary oven, but if you have the money and the desire to get a super-dooper oven, why not treat yourself!
You will need to get to know your oven how ever much you spend on it – the heights of the shelves, the way you slam the door closed when you're making Yorkshire puddings – it all affects the end results.
Slow Cooking Meats
There has been a real trend recently for chefs to celebrate long, slow cooking. Not just the casseroles and stews that sit happily on the stove, but roasting beef, lamb and pork for 48 hours!
This is a very scientific process as the fibres of the meat break down differently with long slow cooking than they do when being pan fried or even roasted normally. The result is meltingly tender meat that falls off the bone – especially good with the cheaper cuts of good quality meat.
Cake Making
Many cooks say that there is far more science involved in baking than there is in cooking. Baking involves more exact weighing and measuring to create a good finished dish as the ingredients interact with each other during the cooking process.
If you imagine a basic sponge cake, the temperature of the butter, the temperature and freshness of the eggs, how much air you incorporate into the beating, the diameter of the baking dish… there are so many physics elements that can affect the cake that there is no point just guessing.
That said, there are women who are able to seemingly throw together a beautiful light sponge cake without so much as a glance towards the scales, but they will have made cakes so many times that they know the science of baking off by heart.
COOKS ESSENTIALS IS FOR SALE.
This website is for sale [more info].
You might also like...