Know Your Oven Temperatures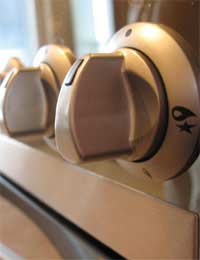 Getting used to your oven and learning how different temperatures affect your cooking is one of the important kitchen skills.
Contrary to popular belief – just ask Gordon Ramsay and his £500,000 kitchen – it really doesn't matter how much you spend on your oven. You can get great results with a second hand oven that's been going for years and cook a terrible meal with a state of the art fancy-pants oven that cost the same as an all-inclusive holiday.
The important factor is getting to know your oven and making sure you are in control. Don't forget – your oven doesn't do anything you don't tell it to. So unless you have spent a small fortune on some sort of robotic cooking machine, you are totally in charge of what happens in your oven.
You Are In Control Of Your Oven
Too often people forget that they can stop something burning in the oven by turning it down, or covering the food with foil, or that a dish which is looking rather pale and uninteresting can be improved greatly by a few minutes under the grill or in a hot oven.
By realising that you are in control of the oven, you can start to appreciate that you can be a great cook no matter what equipment you have. Sure, some things make life in the kitchen a whole lot easier, but you cooking skills are far more to do with your application, rather than your equipment.
Knowing about oven temperatures helps you to make the most of even the most modest oven and indeed, the most modest food budget. Knowing how to slow cook a cheap piece of meat in a lovely gravy makes a meal fit for a king and quickly roasting a piece of fresh fish helps you to make the most of an expensive item.
Oven Temperatures
A low oven means a temperature of around 250 Fahrenheit/125 centigrade or gas mark ½. These very low temperatures are perfect for long slow cooking of cheaper cuts of meat. It has also become fashionable to cook a roasting joint for many hours on a low heat for succulent meat – often up to 24 hours.
A medium oven means a temperature of around 350 Fahrenheit/180 centigrade or gas mark 4. This is a good 'average' temperature to choose if you are not sure, as very few things will come to harm as long as you keep an eye on them. Recipes such as pies, cakes and pasta bakes suit a medium oven.
A high oven means a temperature of around 450 Fahrenheit/230 centigrade or gas mark 8. This is a very hot oven and suits fast roasting meats and fish that are lean and good quality – the quick cooking highlights the quality of your produce and is not suited for fatty meats that need slow cooking.
Once you have learnt what cuts of meat require what temperature to make the most of them, you will be able to appreciate how you can create a really tasty meal without panicking about your meal burning or not being properly cooked.
You might also like...