A Simple Dinner Party Menu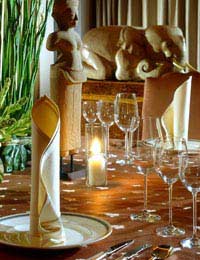 The most important thing to remember when you are planning a simple dinner party menu is to cook something you are comfortable with.
Attending a dinner party where the host or hostess is flustered and stressed is no fun what so ever. It is far better to cook something simple and have plenty of time to enjoy a glass of wine and chat with your guests than try to impress them by making soufflés and lobster thermidor when you've only ever cooked pasta and pies.
A simple dinner party is a great way to spend time with your friends, sharing good food and wine. It is perfectly acceptable to buy one or even two courses – on the continent it is common to buy dessert from a patisserie.
Planning Your Menu
Planning for a cold starter, a one pot or made ahead main course and a shop bought dessert helps to cut down stress and allows you to spend time with your guests. You will also be able to spend time making yourself and your home look nice before your guests arrive, rather than being in your work clothes (or worse, your dressing gown) with the house in a mess as your first guest rings the door bell.
If you want to serve some canapés with drinks before or instead of a starter, try little crackers with cream cheese and lumpfish roe, or a selection of antipasti – breadsticks, olives, sun-dried tomatoes and marinated vegetables. Everyone can help themselves and have a glass of champagne, cava or chilled sherry.
Starter
A great, simple starter is avocados with blue cheese. You can prepare these ahead and all you have to do is pop them under the grill for a couple of minutes once everyone has sat down.
Allow half an avocado per person. Cut the avocado in half lengthways and take out the stone. Carefully scoop out all the flesh and mix it with the same amount of blue cheese – stilton or Italian cheese works well. Season. Pile the mixture back into the shells and set aside until you're ready. Serve the grilled avocados on a bed of leaves with a dressing made of olive oil, balsamic and a little raspberry jam.
Main Course
A simple dinner party main course is lasagne. It's perfect for entertaining because you can make it the day before and pop it in the oven just as guests arrive, so it will be ready after you have had your starters.
Make a rich, meat ragu and a creamy béchamel. Layer the sauces with good quality dried pasta sheets, making sure the sauces are not too dry or the pasta will not have enough liquid to absorb.
Start with a layer of ragu and finish with a generous layer of béchamel. Top with plenty of cheese – mozzarella and parmesan is a little more special than just cheddar. You can bring the dish straight to the table for an informal dinner party, or cook in individual dishes if you want it to look a little more fancy. Serve with a mixed leaf salad, a sharp dressing and a basket full of warm bread.
Pudding
For a suitable dessert, why not buy one of the supermarket 'posh' ranges of ready made puddings or tarts? You may need to sample a couple beforehand so you won't be disappointed on the night! Lemon tarts and cheesecakes are often good, as are sticky toffee puddings, although this can be a little heavy for a summer dinner party menu.
You might also like...