Perfect, Easy Canapes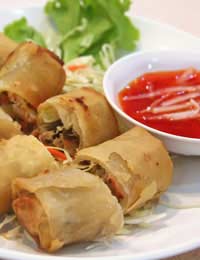 Delicious canapés are the perfect way to start a party.
Although some canapés can take hours of cooking to make perfect little fancy bites, there are plenty of other canapé ideas that look just as impressive and take a fraction of the time, effort and cost.
Why not make a few plates of delicious, easy canapés and serve them with a glass of cava or prosecco to make a stylish yet affordable introduction to the evening?
It is worth spending some time on the presentation of your canapés, too, as it makes a real difference as to how impressive they look. Far better to have a large white plate with neat circles of the same canapés, that a mish mash of canapés thrown randomly onto painted plates.
There are also all manner of plain tiles, black boards and pieces of slate that look terrific with rows of canapés on. Take you time to think about how you will display them, as well as making the actual canapés themselves.
Mediterranean Tartlets
These make great canapés all year round – they seem light in summer and cosy in winter!
Cut bit sized rounds of ready made puff pastry and put a little sun dried tomato paste in the centre, spreading it so it doesn't touch the edges.
Put a little piece of roasted red pepper (buy them in jars and drain the juice off), a half an anchovy fillet and a basil leaf on top. Add a twist of black pepper and bake in the oven, on a heated baking tray, for about 12 to 15 minutes. Best served warm, although lovely at room temperature, too.
Brie And Cranberry Parcels
Perfect for festive entertaining!
Take a packet of ready made filo pastry and, working quickly so it doesn't dry out, cut the sheets into four. This is best done with all the sheets on top of each other so you cut them into quarters all at the same time, keep a slightly damp, clean tea towel on top of the pieces you're not working on.
Take four quarters and put them one of top of another, turning each quarter round 90 degrees so they are not straight on top of each other. Place a small piece of brie and a dollop of cranberry sauce in the middle – not too much filling or it will squelch out and look untidy.
Gather the pastry up around the filling and squeeze the top to make a little parcel or money bag. You can tie this with a piece of leek or spring onion if you like. Bake the parcels 'standing up' on a heated baking tray for about 12 minutes. These are far better warm or hot, although be careful that the cheese doesn't burn.
Crostini
Crostini are really easy canapés that can be topped with whatever you have. Here are a few ideas, although feel free to experiment! This is really fancy cooking made easy.
The actual crostini are simply small slices of toasted bread. Get a long, thin baguette – the ones called 'fiscelle' are the best. Slice it on an angle so you have about twenty to thirty thin slices.
Drizzle with a little olive oil, sea salt and freshly cracked black pepper and then place on a heated baking tray in a hot oven for about eight minutes, turning over half way through.
When they're cooked, let them cool on a rack so they don't go soggy – you want a crunchy base!
Some good ideas for toppings include a slice of mozzarella and a piece of sun dried tomato, a teaspoon of pea and parmesan puree, homemade hummus, a slice of goats cheese with a piece of fresh fig or some thinly sliced roast beef and a dollop of hot horseradish.
You might also like...