A Fuss-Free Christmas Dinner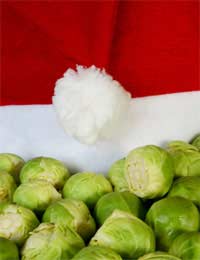 Christmas is a wonderful time of year. It's the perfect time to get families together, enjoy a delicious Christmas dinner and give thanks to another good year.
But it's easy to get carried away with all the fuss of Christmas and forget that, essentially, Christmas dinner is simply a special roast dinner.
Too many people get stressed about cooking at Christmas, rushing around the supermarket, buying enough food for an army for a month. Don't forget that it is only one day and the supermarkets barely close for more than 24 hours!
We all want our Christmas dinner to be special, so there is no point saying it doesn't matter. Christmas dinner does matter, so it's important to get it right. But it is also important to be relaxed, enjoy your Christmas and make family traditions that your children will remember for ever.
Preparation
Preparation is the key to a fuss free Christmas dinner. Allow yourself plenty of time to make plans, timetables and shopping lists. Don't be surprised if your Christmas dinner is a stressful time if you haven't put the effort into the preparation.
The first thing you need to know is how many people you are cooking for on Christmas Day itself. Make sure you know about any allergies, although don't feel you have to cater for every current 'wheat free' whim of every guests. If they are currently following some food fad, tell them to bring their own and you will serve it all together.
Decide on your menu and write a shopping list. Try to do as much of your shopping on line to save time and stress – you can use the time saved to get the house ready and look after yourself.
Write a menu plan for what you are going to have when. If you have guests for dinner on Christmas Eve, think about freezing a one dish meal early in December (fish pie or beef curry work well as they're a change from the Christmas dinner for next day).
Get Into The Spirit
A fuss free family Christmas starts with the host being relaxed. If you are well prepared, you do not need to be stressed as you will have everything under control.
Of course, you cannot stop some things from happening – this is especially true if your children get over excited, the dog eats the turkey or you have a judgemental mother in law – but if you get into the spirit of things, you can let some things wash over you.
Make sure you have plenty of nibbles and drinks available that are suitable for all ages and think about board games or a games console. At least you will be able to slope off and have a hot bath with a glass of sherry if it all gets too much!
On the Day
You won't wake up with a sense of dread on Christmas morning if you have got yourself prepared.
You will have your Christmas dinner timetable all prepared so you know what needs to go in the oven when – one top tip, everything seems to take a bit longer to cook on Christmas Day because the whole country is cooking their Christmas dinner at the same time!
You might also like...