Chef Show Offs - Tricks to Learn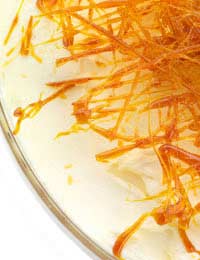 Everyone loves to have a few tricks up their sleeve!
Why not learn a couple of chef tricks to impress your guests when you're cooking a dinner party, or just for a special meal at home?
Little tricks can make a simple dish look really impressive. There is nothing like serving up a perfectly risen soufflé to wow your guests and make them feel special!
Spun Sugar
It is really easy to make spun sugar but it adds a really professional touch to any dessert. Even a simple slice of cheesecake or a square of brownie looks like a restaurant pudding with a tumble of spun sugar perched on the top.
To make spun sugar, you only need a heavy based saucepan and some sugar, so it's a really cheap chef trick, too, as you'll probably have what you need in your kitchen already.
Start by pouring a cup full of sugar (granulated in best, but castor works well, too) into your saucepan. Add in about a quarter of a cup of water and heat it all gently. Give it a swirl around, but then just leave it. You will notice the sugar start to dissolve and then change colour to a light caramel colour. Keep watching and take it off the heat as soon as the colour gets a little darker – you don't want it to burn and it catches very quickly.
To make the spun sugar tumbles, have a clean wooden spoon and a metal dessert spoon to hand. Hold the wooden spoon with the bowl in your hand. Take a spoon full of the liquid sugar with the metal spoon and drizzle the liquid back and forth over the handle of the wooden spoon, creating lots of strands that hang over the handle.
These strands will set very quickly, so while they are still warm, slide them off the wooden spoon handle and gently press them together into a 'wire ball'. This can then be used as a decoration on top of all sorts of puddings and desserts.
Soufflés
There are plenty of recipes around for soufflés, but it can be really hard to get them to rise at all, let alone to rise neatly straight up!
Whatever recipe you follow, the chef trick to make a soufflé rise is all about the preparation.
Preparing your soufflé ingredients is the key to well risen soufflés that impress your guests. Make sure your ingredients are all at room temperature before you start cooking and ideally have your kitchen warm and draft free – it's all about keeping the air in your soufflé.
Preparing your soufflé dishes is also important – they must be well buttered around the edges and along the top rim of the dish, so that the mixture can rise gently without being restricted. Chefs use far more butter than you would at home doing this, so copy them!
Cooking the soufflé is all about putting them carefully into the oven quickly, without putting them in vigorously or slamming the door shut. You must not open the oven door while they are cooking and make sure your guests are ready to be served as soon as they are ready to come out of the oven – these beauties don't hang around!
You might also like...