A Simple Children's Party Menu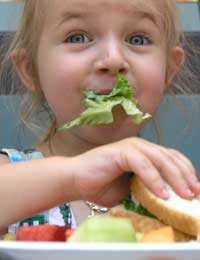 The big question when it comes to arranging a children's party is 'what will the parents say?'
It probably depends on the type of people that you intend to invite to your child's party as some parents can get terribly competitive and demanding.
Some parents expect children's party hosts to cater for every dietary requirement and every food fad, shunning everything that is pink, sparkly or even remotely enjoyable.
Party Food For Keeping The Parents Happy
If you are planning to host the sort of party that keep those sorts of parents happy, then you don't really need this article. What you need is a large amount of very brown bread, some terribly organic hummus and perhaps one or two squares of dark chocolate. You also need to accept that this is very little fun for children.
Party Food For Keeping The Children Happy
You may also be planning to host the type of children's party that gives the kids a week-long sugar rush from all the E-numbers and ruins your house because you keep finding pink-icing hand prints on the walls.
How about somewhere in the middle? A simple children's party that will not make your child the school hippy, mocked for their love of nuts and seeds, or make you persona non grata at the school gates because you got the kids addicted to Tango.
The Middle Ground
A simple children's party menu can be relatively healthy and very enjoyable. While you don't want to serve the children total rubbish, there is nothing wrong with a bit of party food. Unless your child's friends parents are terribly judgemental (and yes, this is not uncommon), they should realise that a party is supposed to be fun for the children, not a game of one-upmanship for the parents.
The Perfect Children's Party Menu
You don't have to give the children the most balanced meal ever, but do at least make a nod towards nutrition with a bowl of easy-to-peel little oranges or seedless grapes.
Sandwiches are always good as children will know what they are. Don't get too fancy – ham and cheese or tuna and sweet corn are popular.
You could also cook a couple of pizzas and cut them into little squares.
How about buying a selection of party food from the supermarket freezer cabinet? Not the best way to impress really snooty parents, but kids love it.
A happy middle ground is roasted chicken wings. Marinate them in ketchup, honey and a little vinegar then roast for at least forty minutes for tasty, sticky wings – have plenty of wet wipes to hand though or you'll regret it!
Sweet treats are also important – try cutting brownies into little squares or making mini-muffins and decorating them with chocolate drops and marshmallows.
The Cake
Of course, no children's party is complete without a cake. If you can make one, this will earn you serious brownie points, although you can get some really good ones in the supermarkets. Many supermarkets and local bakers also let you design a bespoke cake from a few options.
You might also like...