Making a Nutritious Soup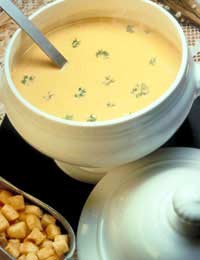 Everybody loves soup. OK, there may be one or two people thinking 'I don't!', in which case, try these two delicious recipes and you may be converted!
Soup is a great standby meal. Perfect for when you feel cold or run down, when you want to get something healthy in your diet or just for an easy take to work lunch.
Home Made Soup v Store Bought
There really is no point in spending a fortune on buying soup. For a start, you don't really know what's in it and it is so easy to make it yourself. Soup is the ideal food for batch cooking and keeping in the freezer. Making soup can be quite a restful, therapeutic thing to do when you have a couple of hours to yourself, then you can feel all smug, safe in the knowledge that you have your healthy lunches all ready and prepared.
The best way to freeze soup is in individual portions in freezer bags, that way you can just take out as many as you need. If you are planning to take your soup to work for lunch, you may prefer to freeze it in small Tupperware containers that you can reheat the soup in. That way, you just have to take a portion out of the freezer before you go to work and it will be defrosted by lunch time. (You can also freeze ready buttered rolls or cheese scones to go with it – delicious and simple!)
Here are two recipes for making healthy, nutritious soup – one for chicken soup and one for vegetable soup.
Chicken Soup
The best way to start a chicken soup is by gently simmering plenty of chicken bones (and some meat, skinless thighs are good). In a large pan, cover your chicken with water, add a cracked bayleaf, an onion and a carrot and simmer for at least a couple of hours. You can also use the carcass from a roast chicken, although the stock will be cloudier.
If you want to take a short cut, then you can use a chicken stock cube or two, just make sure they are good quality ones and that you do not add too much salt later, as stock cubes are very salty.
Strain your stock over a colander and into a clean saucepan. Pick through the contents of the colander and add back in all the meat from the chicken pieces. If you are using a stock cube, you will have to add in chicken meat – ideally roasted. Don't keep the vegetables that you used for making the stock as you will have taken all the flavour out of them. Add in whatever vegetables you want – carrots, cauliflower, cabbage, sprouts, butternut squash and potatoes all work well. Potatoes also help to thicken the soup as they mash.
Allow the stock base and vegetables to cook for a while – this soup can happily sit on the hob for hours, filling your kitchen with delicious smells of home cooking. Serve with plenty of crusty bread and butter, or grilled cheese croutons.
Vegetable Soup
It is actually easier to buy good quality vegetable stock than it is to buy good chicken stock. You can also make your own vegetable stock base by boiling up all manner of vegetables – some people use their vegetable peelings to make stock (wash off any mud though!).
Making vegetable soup is the same as chicken soup, just without the chicken stock or meat. You can also create more varied flavours with vegetable soup, depending on what vegetable combination you choose.
There is always the ubiquitous carrot and coriander soup, but why not try butternut squash, chilli and fennel soup, or pumpkin and coconut milk?
You might also like...
@brimac. We are not actually part of the Cooks Essentials company...we just have a website with that name - it gives 'essential' information for new cooks. Hope you sort out the soup make problem anyhow though!
CooksEssentials
- 14-Jan-15 @ 12:07 PM
I would like to express my disappointment with the Soup Maker that I purchased from QVC which I am returning to them.It was excellent for the first two times we used it but it then failed. I would not have purchased it if I had read the reviews on the QVC website prior to ordering it. I do feel that you should have taken into consideration the reviews and took some action to amend the product accordingly instead of continuing to supply them.The CE 15L Soup Maker that I purchased failed in exactly the same way as other purchasers of the model. No doubt you will look into this problem to rectify for the future
brimac
- 12-Jan-15 @ 2:15 PM