Making the Most of Fresh Herbs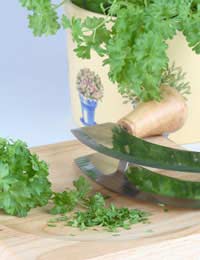 Fresh herbs add flavour and freshness to all manner of dishes. Think of a Thai noodle soup, with plenty of torn Thai basil and fresh coriander, or a delicious roast leg of lamb studded with anchovies, garlic and fresh rosemary.
Fresh herbs have no calories or fat and are allowed on the Atkins Diet – so everyone can enjoy them! Rather than relying on fats such as butter and olive oil to add flavour to your food, get used to the freshness of herbs. Not only will your waistline thank you for it, but so will your doctor as fresh herbs are far better for your general health.
Buying Fresh Herbs
All supermarkets now stock a range of fresh herbs – some of the more exotic herbs like curry leaves or Thai basil may not be available in every store, but most major city supermarkets stock them. Oriental supermarkets are also a great place to buy big bunches of fresh herbs for far less than you would pay in the supermarket – they are often fresher too as the stores have a faster turnover.
You can buy fresh herbs in little pouches or as 'living herbs' in pots with soil. The pouches are good if you just need some of an herb for a certain dish, but it can work out very expensive if you buy them regularly.
Buying the pots of 'living herbs' can be a little more cost effective as they last for a while on your kitchen window sill, as long as you remember to water them. However, you can also end up with a rather sorry looking specimen with all the decent leaves taken off and very little sign of life, so it's a bit hit and miss!
Growing Fresh Herbs
There are two ways to grow fresh herbs – from seed and from a plant.
Growing herbs from seed can be a very rewarding, if frustrating, process. Some herbs seem to grow happily in your kitchen or garden, in a terracotta pot with some good soil. Others start well and then flounder – coriander is particularly hard to grow from seed, with basil being quite easy.
A happy middle ground is to buy the pots of 'living herbs' from the supermarket and then, as soon as you get home and before you snip the juiciest herbs off, transfer it to a better pot with more soil, space and sunlight. These should last a bit longer if you look after them.
Cooking With Fresh Herbs
Making food more delicious is easy with fresh herbs – they add a really professional touch to any dish as a garnish and can be used as the star of the show, too.
Try using parsley as a salad leaf, rather than just a garnish – especially good with some mint in a Turkish-style pomegranate and roast lamb salad.
How about adding a handful of fresh herbs to a baking paper parcel with a white fish fillet, half a lemon and a drizzle of white wine or vermouth? Bake at 170 Celsius for 15 minutes and serve with mashed or boiled potatoes.
A generous sprinkle of coriander is great at making any curry taste more authentic and chopped chives mixed with soured cream is a decadent jacket potato filler.
You might also like...