How I Set Up a Newly Weds' Kitchen: A Case Study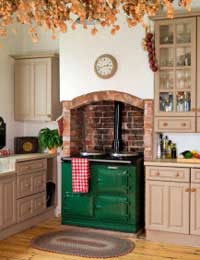 Elsa is a 27-year-old midwife who married last year. When setting up home, she found that creating the kitchen gave her the biggest problem, and the most satisfaction, of any room in the house.
Where Do You Start?
"The most useful advice I can offer to any bride-to-be thinking of setting up her ideal kitchen, is to take very careful stock of her starting point", Elsa says.
"This may seem a bit obvious - after all, we all start at the beginning, don't we? Well actually, no, we don't. It took me some time to realise that. After asking several of my friends for advice I was getting very confused. It was only when I realised we were all starting from a different place, that I was able to get going.
"Almost certainly, unlike most of our mothers years ago, by the time we get married many of us have experience of living on our own, or sharing with friends or even a partner. We have acquired a jumble of equipment and bits of furniture and have had time to find out just how important the kitchen is - or is not - in our daily lives."
Unfamiliar Territory
"Unlike some of my friends, I was in unfamiliar territory. I had spent years in student accommodation and nurses' homes, where my closest relationship was with a microwave. The times in between were spent at home with my parents - being shamelessly spoiled. When I met my fiance, the weekends or days off spent at his flat, with its kitchen-in-a-cupboard, meant eating out - a lot.
"What all of this did for me was to confirm that I really wanted the kind of kitchen I grew up with; a kitchen where we could cook and eat and gather together with friends in an informal, welcoming, relaxing space.
"There was no point considering the kind of luxurious, shiny black and stainless steel design which one of my elegant friends had. It always looked perfect, and suited her, because, she admitted, she spent very little time in it and had no interest in cooking."
Keeping it Simple
"The generously proportioned ground-floor flat, we had bought in a traditional stone-built property, has a large kitchen. We decided to renew one wall of kitchen units in warm wood and to keep it very simple. Dispensing with the remaining old units left room for the kind of free-standing furniture that would turn the kitchen into the heart of our home.
"We had fun touring various auctions before coming up trumps with a bargain - a wonderful Welsh dresser, now the focal point of the room. It adds character and a homely feel to the place. It's very roomy, the perfect place for our wedding china, everyday kitchenware and the blue-and-white plates we have started to collect. On top of that it holds the cutlery and the table linen."
Generous Seating Space
"We didn't compromise on the eating area. We were lucky to find a sturdy table at another auction which is the perfect partner for our dresser. We spent almost as much again commissioning a local joiner to add a new, bigger wooden top to it - to give us more generous seating.
"The chairs had to be comfortable, and we kept it informal with a mix of shop-bought and auction-bought wooden chairs. I unified them with smart, inexpensive tie-on cushions."
Warmth and Comfort
"The look and feel of the kitchen, with its strong influence of warmth and comfort, was what I wanted to achieve. I felt that everything else would then slot into place, and I think that it has.
"There are no rows of high-tech equipment. But we do have superior stainless steel pans which will last for many years with care; and shelves of glass containers, which are great for all kinds of pulses, pasta and dried fruits and which manage to look appetising at the same time.
"The kitchen utensils, too, are all in stainless steel, which will last well and not date. I do, of course, have a small food mixer tucked away in the cupboard, and a smoothie maker, but at present I am enjoying a real hands-on approach to cooking as I add to my not very full repertoire."
Hands-on Style
"As someone with a lot to learn, I believe I am finding out more about food just by mixing and crumbling, grating and slicing by hand; really getting the feel of ingredients and what the various processes do to them.
"Some time in the future, if a family comes along, and I become a busy, working mum, I may be more inclined to take all the push-button help I can get.
"Right now we are enjoying our kitchen as a couple; and from the way our families and friends gravitate towards this room when we entertain, I like to think it is working its magic on them too."
You might also like...