I Brought My Cooking Into the 21st Century: A Case Study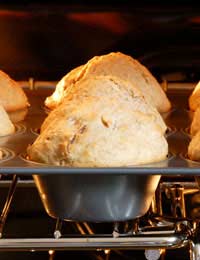 Liz had always enjoyed cooking but, now in her 50s, she was the first to admit it had all become rather monotonous.
While she had always tried to keep up to date with fashions in clothes and decor, she felt stuck in a rut in the kitchen.
Changing a Boring Routine
'I don't know when I first decided to bring my cooking habits up to date', says Liz. 'I think it was a mixture of feeling bored with my old routines, and wanting to rediscover my enthusiasm for cooking.
'Whatever it was, I was soon caught up in learning how things had moved on'.
Giving New Methods a Chance
'Instead of replacing old equipment with more of the same, I learned what was new. Also, as fond as I was of my old recipes, I decided it was time to give new methods a chance'.
21st Century Bakeware
'Even if home-baking is more of an occasional treat now than the routine Sunday event it once was, there are new ways to make it healthier and just as delicious'.
'Muffins, for example, have replaced fairy cakes and sticky buns as a favourite with children, and you can use healthy fruit fillings which they will gobble up happily. But turning muffins out of their moulds successfully had proved literally rather sticky for me. That was until I discovered silicone bakeware. It was originally developed for commercial use and it's so versatile.
'It bakes to the most extremely hot oven temperatures, and cooks quickly and evenly. You can use it in the freezer for chilled deserts and also in the microwave. As well as the muffin cases I now have a loaf pan and a range of spatulas and spoons. My cakes release perfectly every time'.
Versatile Cookware
'I have also expanded my use of healthier cooking methods with one or two modest investments. I used a little steamer basket over the years to cook vegetables. But I now have a three-tier steamer and I regularly cook entire meals in it. I hesitated at first because of the room this would take up in my cupboard, but I freed up space and I can also use the base and lid of the steamer as a casserole. I like the fact that no fat, and often no salt, is needed in the steamed food.
'My other buy - not the most expensive of its type - is a cast iron, ribbed grill pan, lined with enamel, which makes it easy to clean. I seal steak or chicken or other meats in this pan and transfer it to the oven for slow cooking. It is easy to run off the fats and let them settle so that I can skim them and use the juices in a gravy. The pan also makes a healthier version of a fry-up'.
Healthier Cooking Methods
'I wanted to use some of the newer cooking methods recommended by professional chefs. I was intrigued, for example, with recipes using unsweetened applesauce as a substitute for fat in some recipes.
'The first time I made brownies with this method I was not confident it would work, but these have become a firm favourite and are only 75 calories each.
'I use oil more sparingly, too, using an olive oil spray or an oil drizzler to coat pans'.
Up-to-Date Side Dishes
'I am much more likely now to use low-fat yoghurt than cream in savoury and sweet recipes. I stir yoghurt into a hot curry at the end of cooking and find that it adds the creaminess I want.
'I also rarely buy ready-made coleslaw now that I make a healthier, tastier version myself. I bought a mandolin, a great device, to slice the raw vegetables evenly and easily. I vary the ingredients regularly to suit my taste and what's in the shops. I might use red or white cabbage, red or white onion, radishes, or apples, carrots or celery, but I don't use mayonnaise. I use 75g of low-fat yoghurt, a teaspoon of sherry or cider vinegar and salt and freshly ground black pepper to dress the coleslaw. Add that to enough vegetables for two and you have a very healthy side dish.
'I also make much more use of fresh herbs - chopped and sprinkled over food as well as incorporated into dishes - and often use no salt at all'.
Biggest Change
'Possibly the biggest change for me has been acknowledging that I tended to serve portions that were too generous. We all have to take account of the fact that we are not as mobile as our mothers and fathers were. We no longer need huge, high calorie meals that we have no chance of burning off, even with regular exercise.
'So I take the guesswork out of portions by using my digital kitchen scales - as well as my handy little spaghetti measure. Now that has been a real eye opener'.
You might also like...