About Our Site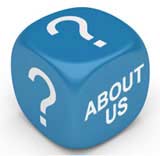 CooksEssentials was formed to offer a unique reference point on the essential guide to being a great cook.
You just need to look at the wealth of books, magazines and television programmes devoted to cooking, to know how inexhaustible the subject is. If we followed all the advice available we would have more information than we could handle, not to mention an excess of equipment that would soon be taking up space, unused, in our cupboards.
This CooksEssentials site has tackled for you the job of sifting out the essential information, including identifying unnecessary items of equipment, as well as offering advice on countless topics which are essential to the smooth running of your kitchen.
Basic skills explained include cooking techniques and oven temperatures. There are 'building block' recipes for simple sauces and stocks. Hygiene in the kitchen is another important topic; and meal planning, not only for the family but for people on their own. There are tips on cooking for a group of people, planned to take the stress out of the experience.
Before you think of investing in a pasta machine or a juicer, or deciding if you should make room for an ice cream maker, you may want to check out this site and to read what are the really indispensable pieces of equipment to have in your kitchen.

Related Articles in the 'Site Information' Category...